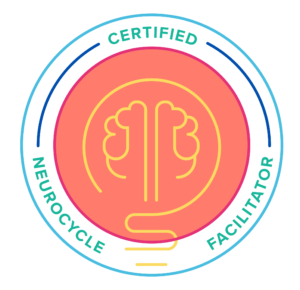 CERTIFIED!
Stephanie is both thrilled and honored to be a part of the very first class of Dr. Caroline Leaf's Neurocycle Certified Facilitators in 2022.
After experiencing Neurocycle firsthand and benefiting from the lasting changes as she rewired her thoughts specific to body image and her relationship with food, Stephanie knew she wanted to share it with others. She is excited to bring Neurocycle to her clients who are intersted in achieving breakthroughs of all kinds. Whether you are a busy senior executive on the verge of burn-out, a busy parent raising the next generation of humanity, a go-getter with imposter syndrome, or all of the above, Stephanie speaks your language.
In addition to being a Certified Neurocycle Facilitator, Stephanie is a Gallup-certified Strengths Coach, ICF-accredited Professional Coach, Certified Holistic Health Coach, Certified Nutritional Counselor, and holds a Doctorate in Traditional Naturopathy. She has 24 years of experience consulting. Instructing, and coaching with a Tier 1 global strategy & management consulting firm.
What is Neurocycle?
Neurocycle is the scientifically researched and tested, revolutionary, 10-week process developed by Dr. Caroline Leaf to help you take back control of your thoughts and your life.
The Neurocycle program is designed to help you:

Help you rewire your brain & build new healthy habits in 63 days
Find the roots of toxic thoughts and habits
Reconceptualize the origin story / roots
Rebuild a healthy new thought pattern and habit to change behavior
Guide and support you, while keeping you accountable, through personal sessions
Achieve lasting and sustainable results
Learn powerful mind management techniques to help you live your happiest and healthiest life
Detox & Renew your Mind with
The Neurocycle Package
What is included
Welcome gift
One-year access to Neurocycle app
Neurocycle book by Dr. Caroline Leaf
Neurocycle journal
10 hours of one-on-one Neurocycle facilitation sessions to support you in reaching your individual goals
INTRODUCTORY OFFER
Your investment
$1800
or
3 payments of $650

Let's get started
If you would like to get started with Neurocycle or if you have any questions,
Contact:
952-212-8994